We offer rich and competent Industrial Automation Engineering Services for various systems like PLC, DCS, HMI, SCADA, Batch, Safety, Robotics, Drives, MES, MII, ERP Data Integration, etc.
We have Platform Independent Engineering Services expertise across Siemens, Rockwell Automation, Honeywell, Schneider Electric, Emerson, Mitsubishi, GE Digital, SAP MII, Wonderware & Invensys (both part of Schneider Electric), etc.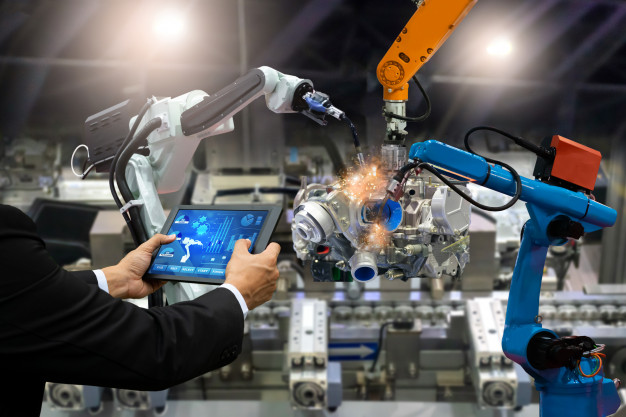 Our Industrial Automation Services:
PLC, SCADA & HMI Engineering
DCS Engineering
Safety systems & Drives Engineering
CNC, Motion & Robotics Engineering
Documentation & Specifications (FDS/ DDS)
Pharmaceutical Validation Services
Operator Training
24×7 Support
IEC- 61131, IEC- 61850, ISA-88/ PackML, ISA-95, DCP, SIL 2, SIL 3, 21 CFR, Part 11, GAMP and BRAUMAT/ CEMAT
We have successfully executed 1200+ automation projects across various systems in different parts of the globe.Following is our competence across various tools and automation platforms.
Siemens – S5, S7-300, S7- 400 H/ F, S7-1200, fail-safe Controller, SINAMICS, SIMODRIVE, SICAM
Rockwell Automation – ControlLogix, CompactLogix, SLC-500, PLC 5, PowerFlex drives, GuardLogix, AAdvance
Schneider Electric – Quantum, Premium, M340, Altivar Drives
Emerson – DeltaV SIS
GE Digital – RX3i, Rx7i, Series 90-30, Series 90-70, VersaMax
Honeywell – MasterLogic, Safety Manager & Fail SafeControllers
Mitsubishi – MELSEC-Q, L & F Series
ABB – AC500, AC800F, ACS 800 Drive
Siemens – PCS7, SIMATIC Batch
Emerson – DeltaV, DeltaV Batch
Honeywell – EPKS C200, C300, R400, R410, HC900, TDC 3000, 2000, TPS/HPM, TDC.
GE IP – Proficy Batch
Invensys – Foxboro I/A
Rockwell Automation – FT Historian, FT VantagePoint, FT Transaction Manager
Wonderware – InBatch
ABB – 800xA, Freelance
Siemens – WinCC, WinCC – Flexible, Protool, TIA Portal
Wonderware – InTouch, System Platform (IAS)
GE Digital – Proficy iFIX, CIMPLICITY PE / ME
Rockwell Automation – FactoryTalk View SE/ME, RSView32, PanelBuilder32
Schneider Electric – Vijeo Citect, Vijeo Designer
Honeywell – HCiX
Siemens – SINUMERIK CNC 808, 828, 840
FANUC CNC – M720 System
Other Robots – ABB, KUKA, FANUC, Dürr, etc.
Siemens: Fail Safe Controller (FCS)
Allen Bradley: GuardLogix, AADvance
Invensys: Triconex TMR
Honeywell: Safety Manager & Fail Safe Controllers
Emerson: DeltaV SIS
SAP – SAP MII 14.0, SAP MII 15.0
GE Digital – Proficy Plant Applications, Proficy Historian
Wonderware – Manufacturing Operations Management
Rockwell Automation – FactoryTalk ProductionCentre
Werum – PAS-X
Reports – Customized MIS Reports, Web Reports using Microsoft Technologies (VB .NET, C#, MS SQL Server)